Interactive screen IFP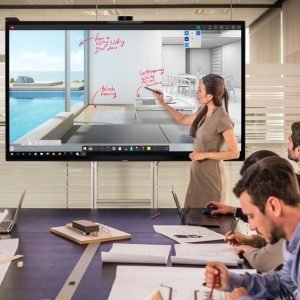 The scientific development that the world is witnessing nowadays has added many concepts and methods of learning and all the skills necessary for it, as well as many modern technical means that can be used in many fields including the field of education, especially the interactive screen IFP.
In addition, we are witnessing an era of technological evolution that is growing day by day, where information and technology have been able to dominate all aspects of life, whether they are healthy, educational, engineering, commercial, and other various fields.
The interactive screens IFP are the fruits of this technological and scientific development.
In this article, we will explain what are the uses and benefits of interactive screen IFP and how to install them through Ultra Vision for audiovisual.
interactive screen IFP
interactive screen IFP is a means of transferring information from teachers to students in all grades
. The blackboard has gone through many stages since Since its primitive form as it used to be made of stone slabs
Then the blackboard with chalk, after that the whiteboard, and now the interactive whiteboard or the interactive screen, as some call it.
It also can be used in educational halls and it operates on its own without any need for computers or projectors as it's the only integrated educational medium in the meantime.
Interactive screen IFP uses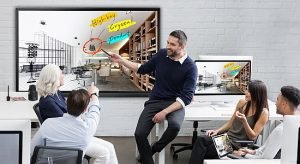 Accuracy and a high degree of clarity distinguish it from the rest of the other educational

means

, in addition to its easy connection to computers or mobile phones and the speed of its response.

The ability to save information and memory and save the lessons given by the teacher with the possibility of printing and sending them via Bluetooth or by email

All content can be seen through applications and games from computers or mobile phones to interactive screens from any direction with clarity and ease.

It can be used in classrooms, training rooms, and meeting rooms.

It helps teachers develop the appropriate plan for explanation methods through the good arrangement and organization of the lesson elements, in addition to

adjustable

elements of sounds and images that serve all the content of the courses.

As many schools usually face the problem of educational staff's shortage, smart boards have proven their ability to overcome such a problem and control it through the features of re-explanation of the lessons explained by teachers, in addition to copying them.

Using a lot of different programs and applications, such as using Microsoft Office programs such as Word, Excel, and other applications or games.

Uses

all the distinguished Internet programs in an easy and

clearer

and free manner

Equipped with special effects, dimensions, and programs that help the educated person increase his educational experience.

Contributed to solving the problem of shortage of dunal staff ratio.
Interactive screen IFP features
Compact computer.

Compact camera.

Support WIFI and LAN

Low power consumption.

No light bulbs, no filters.

Low maintenance costs.

Integrated audio system.

It has USB outputs for browsing any file or connecting to any other device.

It is easy to install and can be used with a password and requires no maintenance at a high cost.

Operates on low power consumption.

Supports Windows operating

systems

and Office programs.

It has USB outputs for browsing any file or connecting to any other device.

Easy to install and can be used with a password.
Types of interactive screen IFP
There are many names and types of interactive screens, and they are as follows:
● SmartBoard.

● Interactive Board.

● Interactive Touch Screen.

● Digital Board.

● Electronic Board.

● Interactive WhiteBoard.
Interactive screen IFP functions
● Increasing presentation efficiency and timekeeping, making presentation practical and easy.

● A person can print, copy, paste, write any content, scan and take a picture to the desktop, move and rotate any file on the smartboard.

● Control recording of video files, where the user can do a visual recording of everything he wrote manually on the board, as well as audio on an AVI file.

● The existence of an HRS handwriting identification system that enables writing on the board with an electronic pen and then converting it to TEXT and printing it directly.
interactive screen IFP prices
Before we get to know the prices of the interactive screens, we must know what are the specifications of the interactive screen and the sizes it's available in, and the most important specifications of the technical screen:
● It works with Android, Windows, and Mac systems.

● 4 GB RAM and 250 GB Hard disk.

● The screen is Full HD 4k, and there are 65 inches and 75 inches.

● The smartboard provides a large display area with a width of up to 2.16 meters in width and 1.27 meters in height.
interactive screen IFP is characterized by a variety of prices and sizes. We find that there is a 92-inch interactive board of the highest materials and also works with touch, as the factory provides it at the lowest prices, through the places dedicated to selling interactive boards, so do not forget to ask about our offers.
finally
At the end of this article, it has been clarified about everything related to the interactive screen IFP and their most important uses, specifications, and importance, so you can request them through us at Ultra Vision for audiovisual, and we can also provide any special request for you according to your desire only All you have to do is contact us On our numbers or by leaving a comment so that our team will contact you immediately with 24-hour service in addition to providing after-sales service.